About Us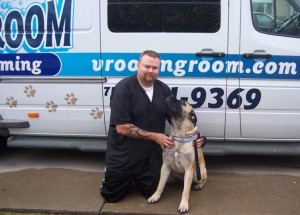 Welcome to Vroom n Groom and thank you for visiting.
My name is Dennis. I am the owner and founder of Vroom n Groom Mobile Pet Grooming.
I am a proud graduate of the Rochester Institute of Dog Grooming where I received a top-notch education from some of the most talented and caring groomers in the area. The Institute is certified by New York State Education Department. In addition, I received my certification in Pet First Aid from Walks n Wags so you can be confident that your pet is in good hands with me should any unforeseen situations arise.
I am so proud to be able to offer you and your pet a stress-free environment for your grooming needs. So many people tell me how surprised they are by the wonderful experience that their pet has in our custom van compared to a trip to a traditional grooming salon. Nothing makes me happier than to deliver a wonderful experience for people and pets that have been through bad situations in the past.
We are located in Elma, a suburb of Buffalo, and we service the following towns:  Alden, Bennington, Buffalo, Cheektowaga, Clarence, Cowlesville, Depew, East Aurora, Elma, Hamburg, Holland, Lancaster, Marilla, Orchard Park, Strykersville, Wales, West Seneca, Williamsville.
If you have any questions about our service area please don't hesitate to contact us! We would love to talk with you.
Call Us Anytime at 716-341-9369
or email me at dennis@vroomngroom.com